We're well off into the 3rd Quarter of the year. The kids have just gone back to school, maybe you're back in school as well. Now its time to set some goals, and plan out the next year or the final quarter if you're not there yet. I always find it helpful to write out my goals, plans and ideas. Writing it out helps me to get out of my head and start brainstorming action steps needed to reach my desired goals.
Over the last few years I've been introduced to vision boards. I find them to be very resourceful when it comes to visualizing your future should your environment not particularly reflect where you want to be. I literally manifested this and I had to share it with you because of how cool it is!!!
Telly Walker Author of Visualize Strategize and Mobilize Guided Activity Journal to Manifest Your Life Goals and Founder of Pen & Pin reached out to me about reviewing her product. I was instantly reminded that just a week earlier I had thought I want something to help me get organize and help me put my goals and plans in one place. We'll talk about that later. Anyhow she wanted me to try it out and share my thoughts. To that I was INSTANTLY ready, willing and excited to receive the package.
She offers a Vision Bundle Box (among other services) which contain a few key components to setting, planning, and reaching your goals.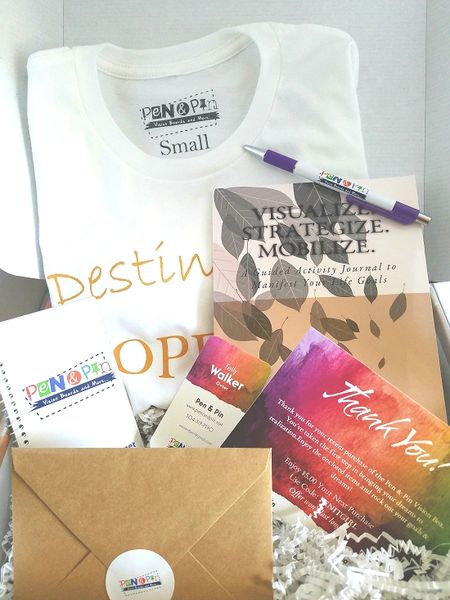 The Vision Bundle Box includes:
– The Visualize. Strategize. Mobilize Activity Journal.
– "Destined for Dopeness" T-shirt to remind you of your journey while staying fly.
Mini Journal for your notes
Stationary
An Official Pen & Pin ink pen to write down your pathway.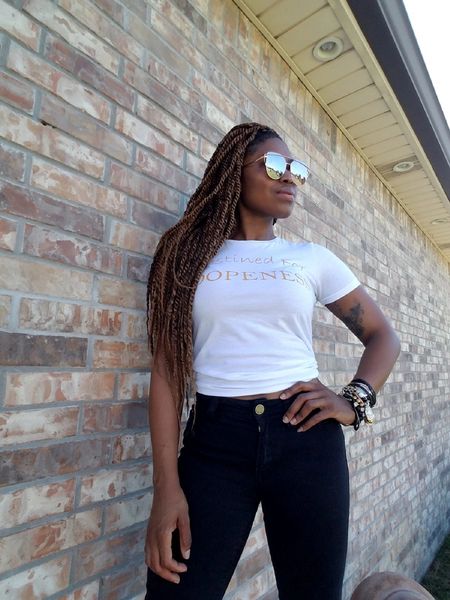 The Journal's intended purpose is to help you decide, prioritize, and set your goals; While also providing space to keep track of your progress. This bundle is literally a first step prep set to steer you in the direction of your dreams. The box is reasonably priced at $39 and you may also buy additional add on Tee's and/or Journals.
One of the great things about Pen and Pin is they really set out and aspire to provide a product that helps you reach your goals & Most importantly as an organization they really care about helping you succeed in your endeavors. That to me is extremely important! Customer service and quality Service/Care has ALWAYS been #1 in regards to a business and how I view them overall.
In addition to the products mentioned earlier I've also got to mention a few stunners about Pen & Pin. Sooo Can we just talk about the services offered, Telly really went all the way when she added the Private Pen Party as an extension to her services. With the Private Pen Party Telly will help you and a group of your friends sit down and create your vision boards. One thing that really stood out to me was, A Private Pen Party can really improve Morale! Which is important. Many times we don't realize how far a support system can take you. In our communities we often lack an understanding or even the recognition of the value in and of visualization. Telly captures this beautifully with Pen and Pin, by taking her clients
"… from being busy to productive. They are creating action steps towards their goals and producing winning results. They are proactively creating a life of joy, happiness and financial stability. They have adopted the belief that writing down their goals… is both necessary and nonnegotiable! "
Pen & Pin has also been very busy and activity involved in the community lately. Pen & Pin took a visit to Mesquite Academy in Texas to aid faculty members with goals and strategies which would definitely be implemented into curriculum this year. Telly also joined the Fusion Youth Outreach Group in Laplace, Louisiana to help more than 40 kids complete their own vision boards.
You can learn more about Telly Walker and Pen & Pin on her website at PenandPin.net You may also choose to reach out on social media by visiting them on Facebook and Instagram.
Get your Vision Bundle Box today; Be sure to book Pen & Pin for your next creative get together.
Well Guys I want to Thank you for joining me today!
Until next time…
Stay Healthy Happy and Always Loving